Kentucky dominates Dick Vitale's All-Decade
[ad_1]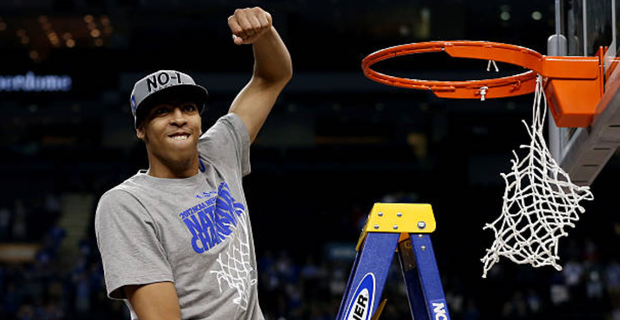 ESPN college basketball commentator and personality Dick Vitale released his All-Decade list this week and not surprisingly, the Kentucky Wildcats were all over it, gaining mention for players, teams, coaches and games of the decade.
Anthony Davis was named to Dick Vitale's All-Decade Team alongside Zion Williamson (Duke), Trey Burke (Michigan), Buddy Hield (Oklahoma) and Kemba Walker (UConn).
Get the latest Kentucky Wildcats news sent directly to your inbox when you sign up for our FREE email newsletter TODAY!
As a freshman, Davis enjoyed one of the most decorated seasons in college basketball history, becoming Kentucky's first Naismith and Wooden Award winners for National Player of the Year to go along with Final Four Most Outstanding Player, National Freshman of the Year, National Defensive Player of the Year, SEC Player of the Year, SEC Defensive Player of the Year and SEC Freshman of the Year in leading the Wildcats to the 2012 national championship before going on to become the No. 1 overall pick in the 2012 NBA Draft.
The 2011-12 Wildcats led the way on Vitale's Teams of the Decade, followed by Duke (2014-15), Villanova (2017-18), UConn (2013-14) and North Carolina (2016-17).
The first team of the one and done era that proved you can win at the highest level depending primarily on freshmen, Kentucky tied an NCAA record with 38 wins and just two losses by a combined eight points and according to college basketball statistical guru Ken Pomeroy, ranked No. 1 in adjusted efficiency margin, No. 2 in adjusted offensive efficiency and No. 7 in adjusted defensive efficiency. The Wildcats went undefeated during the SEC regular season before falling to Vanderbilt in the finals of the SEC Tournament in New Orleans before going to win its six NCAA Tournament games by an average of 11.8 points per game.
Along with Mike Krzyzewski (Duke), Jay Wright (Villanova), Tom Izzo (Michigan State) and Roy Williams (North Carolina), John Calipari was recognized as one of the Coaches of the Decade.
Since 2010, no head coach has won more games, more NCAA Tournament games, reached more Final Fours, signed more top-10 recruits and no school has produced more No. 1 overall picks (3), top-10 picks (13), lottery picks (23), first round picks (32) and total NBA Draft picks (41) than Kentucky. Over the summer, Calipari was rewarded with a 10-year "lifetime" contract worth a total of $86 million.
Kentucky's 68-66 win over Notre Dame in the Elite Eight of the 2015 NCAA Tournament was named one of Vitale's five Games of the Decade.
In a game neither team led by more than six points, the top-seeded and undefeated Wildcats got a career-high 25 points from Karl-Anthony Towns and made its final nine field goals down the stretch before Andrew Harrison sank a pair of free throws with :06 seconds left as UK improved to a perfect 38-0 and advanced to its fourth Final Four in five years.


[ad_2]

Source link