rss
Finally, with iPadOS the iPad is starting to feel like a laptop replacement
[ad_1]
Since it arrived back in 2010, the iPad has increasingly marketed itself as the 'future of computing.' Although first no more than an iPhone with a bigger screen, the Apple tablet has slowly grown up with a goal of becoming a laptop alternative.
But, even when using the latest iPad Pro, complete with Apple's keyboard case, Pencil stylus and current iOS 12 software, it wasn't the complete package. Safari was still a mobile web browser, so wouldn't always play nice with certain websites and online tools like website content management systems.
The home screen, with its sparsely spaced apps, felt like a giant waste of pixels, and the lack of a proper file management system was a pain. Apple's own Files app helped here, but with iOS 12 trying to get work done was still problematic.
Read More:
Step forward iOS 13 and iPadOS
All this is about to change with Apple's new iOS 13 software, available as a beta now and expected to formally launch in the fall. For the first time, Apple has created two distinct version so iOS — one for the iPhone and one for the iPad. The former is called iOS 13, while the latter gets a new name, iPadOS.
I've been using iPadOS on my 11-inch iPad Pro since the first beta landed, and am currently using the latest version, known as public beta 2, which arrived this week. Below are the main reasons why I now consider my iPad a work machine, in a way it just wasn't before.
A new and more useful home screen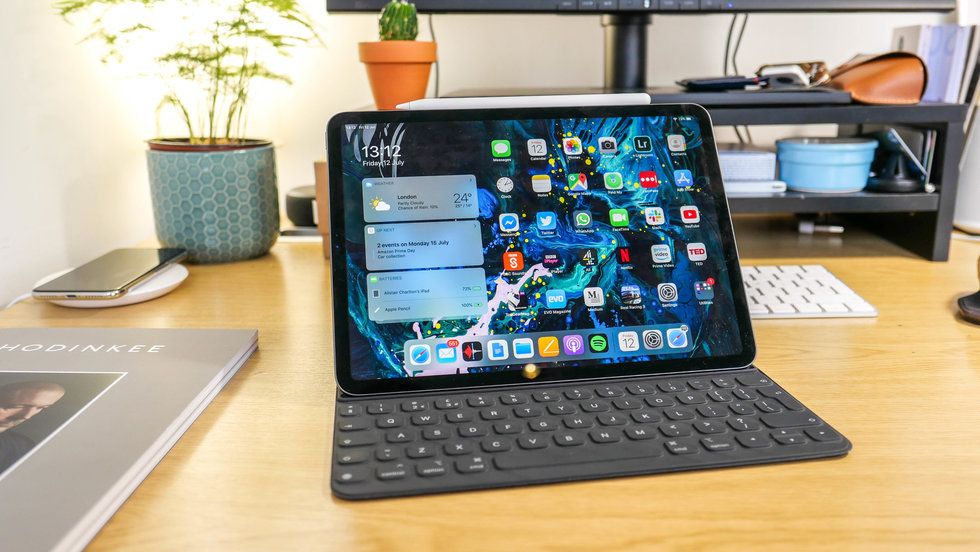 iPadOS brings a new home screen with adjustable widgetsGearBrain
The changes here are immediately obvious. For starters, the home screen now lets you permanently pin a set of widgets from the Today View right next to your apps. That way (when used in landscape), the iPad home screen can be set to show your apps, but also the date and time, your next calendar event, location and time, the current weather, a selection of Siri Shortcuts, recent files, email and more.
How you configure this section of the home screen is entirely up to you, and while its functionality isn't huge, it makes for a pleasing interface which is useful at a glance, and immediately makes the iPad feel more like a computer, ready to get things done.
You will notice that, on Apple's web page promoting iPadOS, the tablet is almost always displayed in landscape instead of portrait orientation. This, compared to the portrait-favoring iPhone, says a lot about what Apple sees for the future of the iPad. It's a device to be used primarily in widescreen, like a laptop or a computer screen.
Desktop-class browsing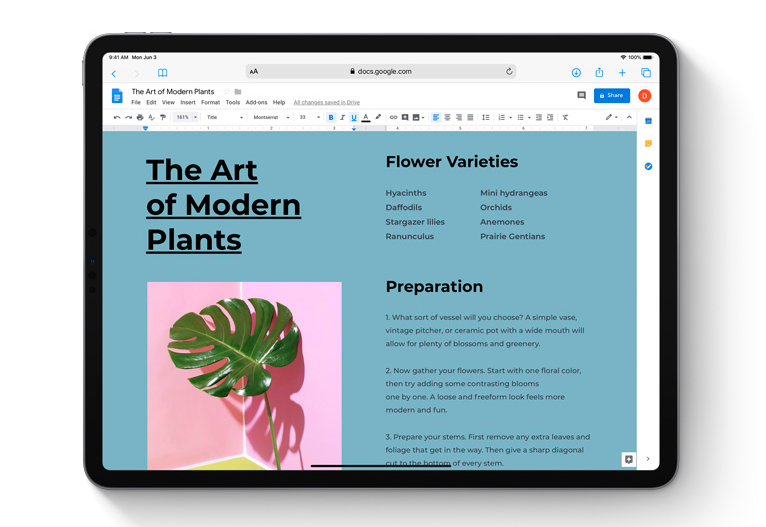 Safari now tells websites that it is a desktop browserApple
The Safari web browser in iPadOS is a huge improvement over previous iPad versions, and that's basically because it lies — telling a website it's not a tablet. For example, when a device like a phone, tablet or computer visits a website, a site know the device — from the size and orientation to the screen along with other details to help the website appear correctly.
An iPad running iPadOS, on the other hand, tells websites that it is a computer, not a tablet or a smartphone. That way, the site returns the desktop version by default, thus elevating your browsing experience from a large phone to that of a touch screen computer. Web apps like Google Docs, SquareSpace and WordPress now work properly.
A vastly improved Files app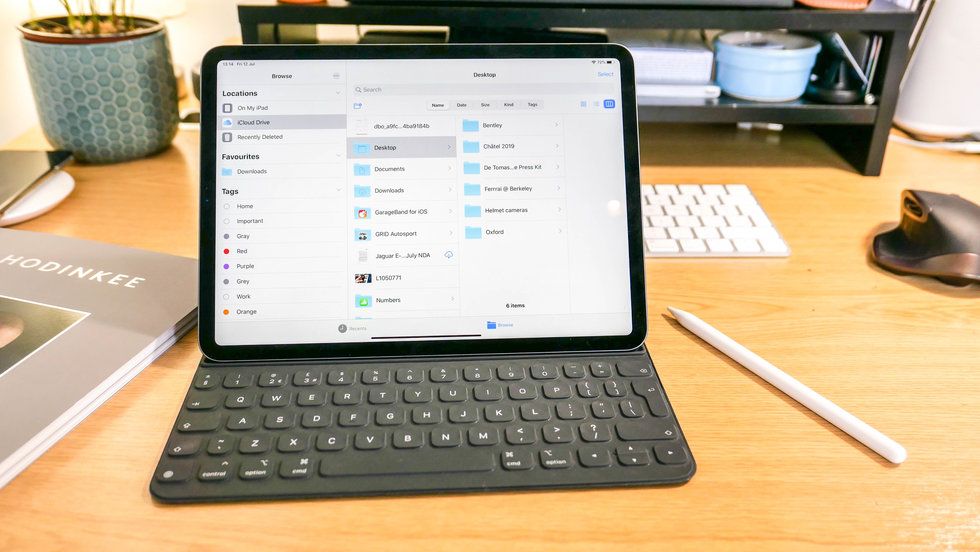 The Files app has been hugely improved on the iPad with iOS 13GearBrain
Also key is how the Files app has been updated for iPadOS, which means I can now upload images from my iPad (or saved on my iCloud Drive) through Files and Safari.
Files can also now, finally, read USB sticks, SD cards and almost any other form of storage you attach to the iPad's USB port. Photos on my camera can be uploaded to an SD card, and through same USB-C hub I use on my MacBook Pro, I can import images, then edit them (in Photos or Lightroom), and upload to iCloud.
This simple change has made a huge difference to my mobile workflow, and finally means I can work remotely without needing to carry a laptop with me. There's also an improved download manager in Safari, with downloads falling straight into your Downloads folder, accessible in the Files app.
Your documents and folders can be viewed through a three-column view the same as Finder on the Mac, and there are shared folders for collaborating with your colleagues.
All of these improvements add up to a feeling where, instead of merely viewing the internet from afar, the new Safari and Files apps in iPadOS mean you can actually interact with the web and use it properly.
Multitasking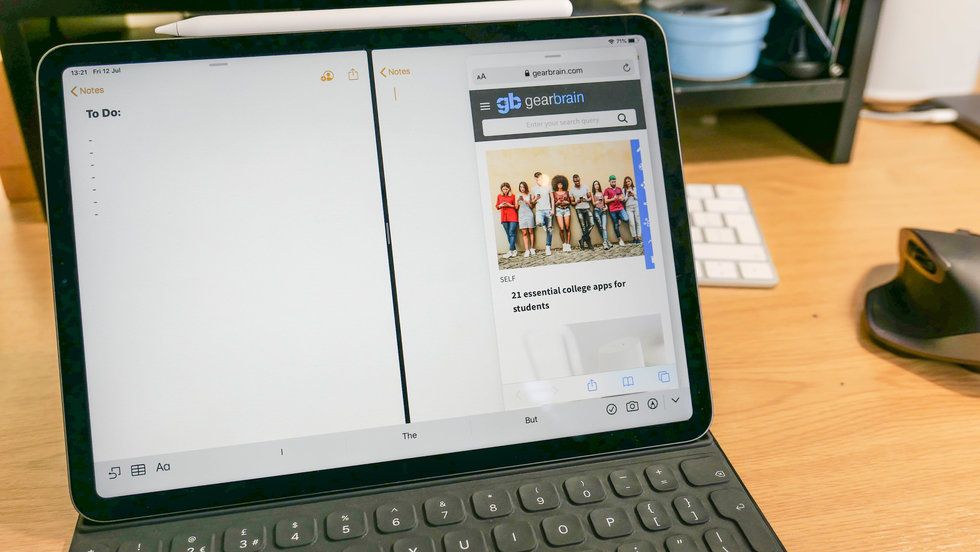 Two instances of Notes, and Safari, all running at onceGearBrain
Even when its software was far simpler, the iPad's larger display meant multitasking was more useful than on an iPhone. Now, instead of just showing two apps next to each other, you can use them both at the same time, and even have two instances of the same app open and on-screen at once.
This means you can have two instances of the Notes app open next to each other, for example — although curiously this doesn't work with Apple's own Pages app for now.
You can then take things a step further with iPadOS and introduce a third window, which floats on top of the two apps you have open next to each other. Like a virtual iPhone on the screen of your iPad, this third window can have multiple apps added to it, which are flicked between with a sideways swipe, just like switching between apps on the iPhone X, XS and XR.
There's quite a lot to learn here — and don't even get my started on the new two- and three-finger taps to manipulate text — but once mastered, the iPad is a far more capable production device than before.
Sidecar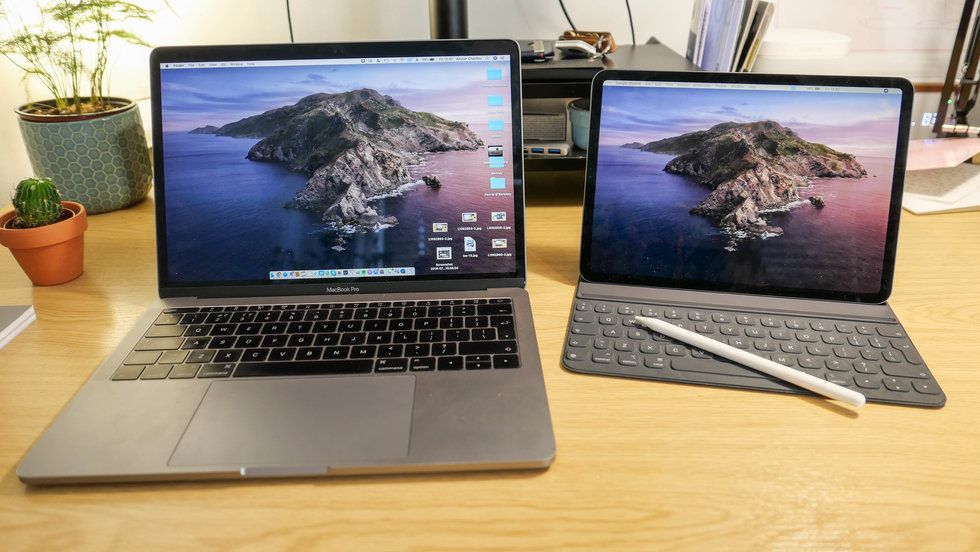 Sidecar turns the iPad into a second monitor for your MacGearBrain
Another work aid introduced with iOS 13 and iPadOS is called Sidecar, which lets you use your iPad as a second display for your Mac. This can be done wirelessly (when connected to the same Wi-Fi network) or when connected with a USB cable, and so far it has worked perfectly.
The Mac sees the iPad exactly as if it is another display. That way, you can go into the Mac's Setting app and adjust the iPad just as you would any other external monitor. You can adjust the orientation of the two screens, and pick which you want to display the Mac's toolbar. For those who work in image creation and editing programs, the iPad and Apple Pencil can double up as a graphics tablet.
A word of caution
Added together, this all makes the iPad a far more useful and powerful device, but for now I must remind readers that iPadOS (and iOS 13 as a whole) is still in beta and therefore quite buggy. Sometimes Files doesn't talk properly to iCloud Drive and my MacBook (running the macOS Catalina beta, because I just love glitchy software), and this can put a significant roadblock in my workflow.
As we wrote about earlier this week, iOS 13 is still fairly unstable and we urge readers not to install the software on their primary devices. If you have a spare iPhone or iPad then fine, have fun, but we suggest everyone else waits a little while longer until these beta bugs are ironed out ahead of the proper launch this fall.
[ad_2]
Source link