rss
Forest Park to interrupt floor on new, 17-acre nature playscape
[ad_1]
If you think of Forest Park as St. Louis' 1,293-acre playground, then you might like what the park is going to dig in and build next.
On Monday morning, the park will break ground on a 17-acre natural playscape within the park, set to open in 2020. It will be the biggest spot of its kind in the St. Louis region for kids and families to hop across a waterway, build towers with log blocks, get a closer peek at a ladybug and generally get happy in nature.
The $4.5 million project is funded by Forest Park Forever donors.
"Kids aren't spending a lot of time outdoors, and it's really affecting their health and well-being," said Lesley Hoffarth, president and executive director of Forest Park Forever. "This is kind of a reintroduction to nature in this urban setting."
Children today spend mere minutes a day outside for unstructured play time, studies say. Getting them outdoors gives them exercise, sunshine, exposure to taking risks and a chance to socialize with others and appreciate nature, all good for growing bodies.
The playscape will go in a roughly oval-shaped piece of land between the World's Fair Pavilion and the Jewel Box. It's now home to lots of turf grass, a picnic pavilion, a couple of picnic areas and a small climber that looks like an old jalopy.
The vast majority of its trees will stay and become part of the new landscape. In fact, the park transplanted 20 existing trees and will plant 280 more.
The jalopy climber will stay at the area's south end and won't be part of the playscape, but there will be no new pieces of plastic playground equipment or even playground equipment made to look natural. Kids are expected to play with the natural materials there.
The playscape will be divided into eight activity areas: mounds, a spring, a wetland, a bottomland forest, a gravel bank, an upland prairie, a young forest and a sensory garden.
Stroller and wheelchair-accessible paths will connect the areas.
The land slopes eastward toward the Successional Forest, and a natural swale in the ground will become a rock scramble leading to the forest. There will be bubbling water, pumps for kids to pump, drinking fountains, a mulch labyrinth and even boot stations for cleaning up afterward.
"We want kids to really get in there and make a mess for us to clean up every day," said Hoffarth.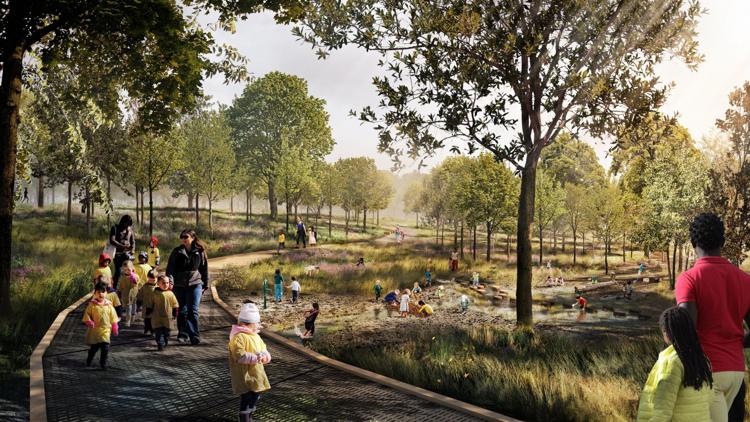 Justin Schmitt, the designer and horticulture project manager for Forest Park Forever, has already selected trees and ordered native bushes, plants and flowers that will offer color, scent and even sound. They'll plant tall switchgrass that rustles in the wind and blue false indigo that produces seed pods that rattle, he said.
The grounds crew is already on alert for new materials: some trees that were due to be removed anyway because they were hazards will be used to make benches or natural climbers. They'll slice log "cookies" for building blocks and other natural materials they find throughout the park will be brought to the playscape for visitors to use to create.
"We want this to be an evolving place for people to come back again and again," said Hoffarth. It will change with the seasons and change as people decide how to use it, she said.
The 1995 master plan for Forest Park asked planners to address the quality of the park's playgrounds. The park has three playgrounds with a variety of traditional equipment: the Hudlin playground near Barnes-Jewish Hospital at the east end of the park, the Variety Wonderland Playground at the visitor's center on the north side and the Turtle Park playground on the south side.
As park officials looked for a place to create a new play area, they considered several spots but chose this one for its central location, accessibility to parking and two existing bathrooms.
And as they figured out what to do with the space, they met with kids and teens from more than 20 schools, recreation centers and organization centers. The kids looked at models, created their own models with dirt and sticks, and came up with ideas.
"The one idea I thought was most interesting was, 'we need a place to do cartwheels,'" said Hoffarth. "So we created a meadow. It's in a clover field. Kids can search for that elusive four-leaf clover."
The park also worked with a team of national experts in landscape architecture and play spaces, including the Natural Learning Initiative, H3 Studio, Interboro Partners and Rubus Landscape Architecture. Planners also looked at play areas locally, like one at the Shaw Nature Reserve in Gray Summit and at the Heights community center in Richmond Heights.
They also traveled to Prospect Park in Brooklyn to see a one-acre playscape created in part from trees downed in Hurricane Sandy in 2012. Workers there added logs with holes in them to be climbed through like tunnels, tipped a tree on one end and sunk the branches into the ground to create a climber, and added a water pump and sand.
It's one of the most popular parks in New York City and has been replicated in other parks there, said Christian Zimmerman, with the Prospect Park Alliance. He's noticed that kids seem to play quietly in the park as they become engrossed in their work of building dams, making towers and pretending. It's not like a traditional playground where kids run around screaming, he said.
"I'm very envious of you, to have something of that size," he said. "I hope that parents really embrace it. I know the kids will."
Nature Playscape in Forest Park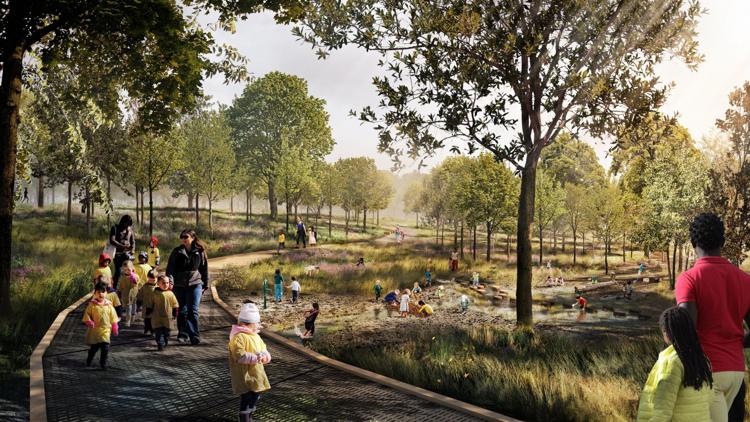 Nature Playscape in Forest Park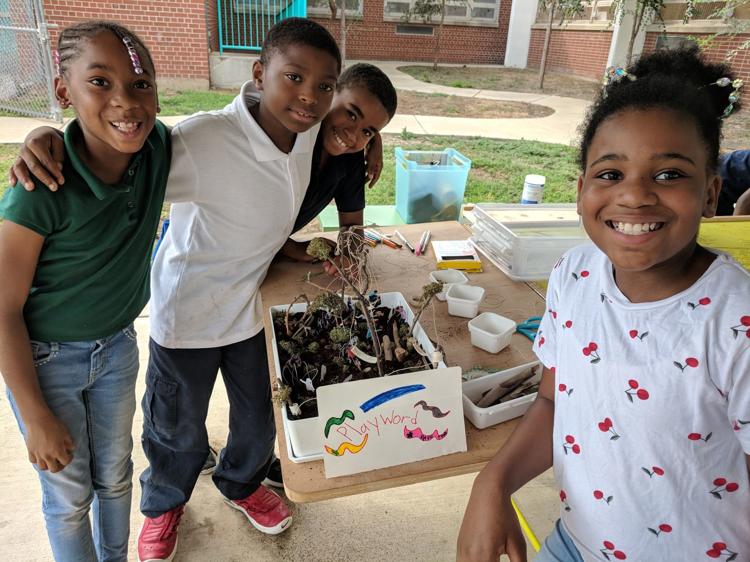 Nature Playscape in Forest Park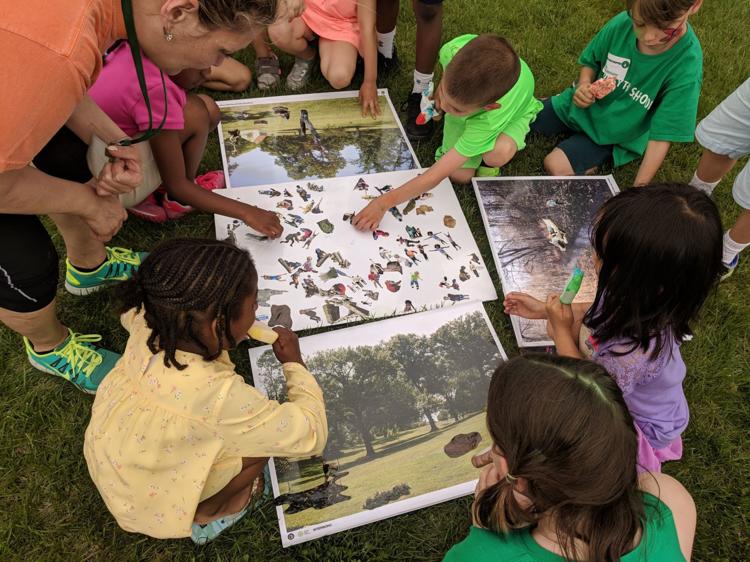 Nature Playscape in Forest Park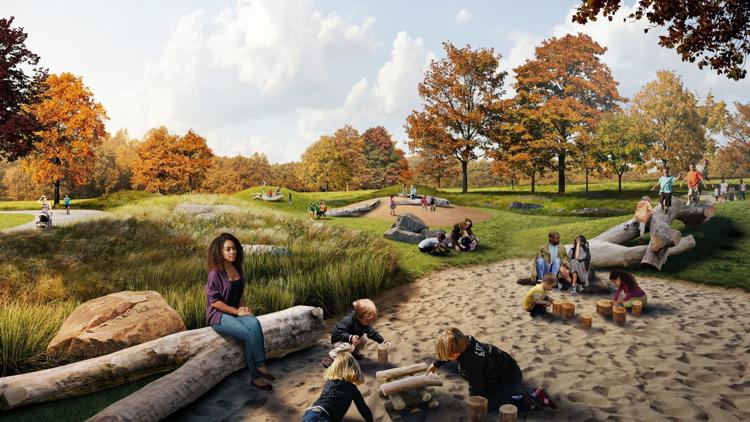 Nature Playscape in Forest Park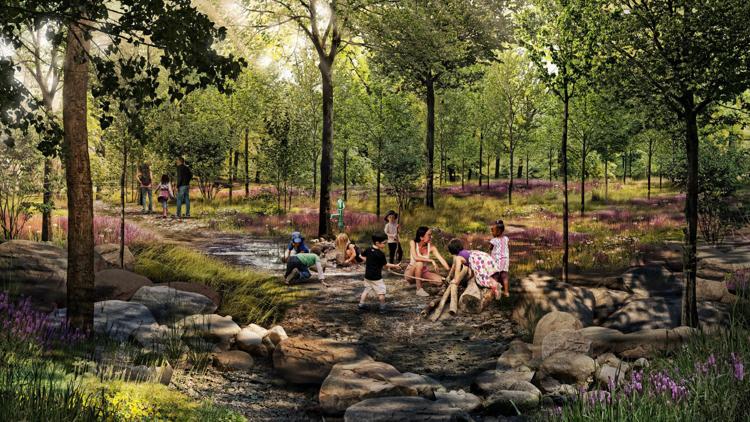 Nature Playscape in Forest Park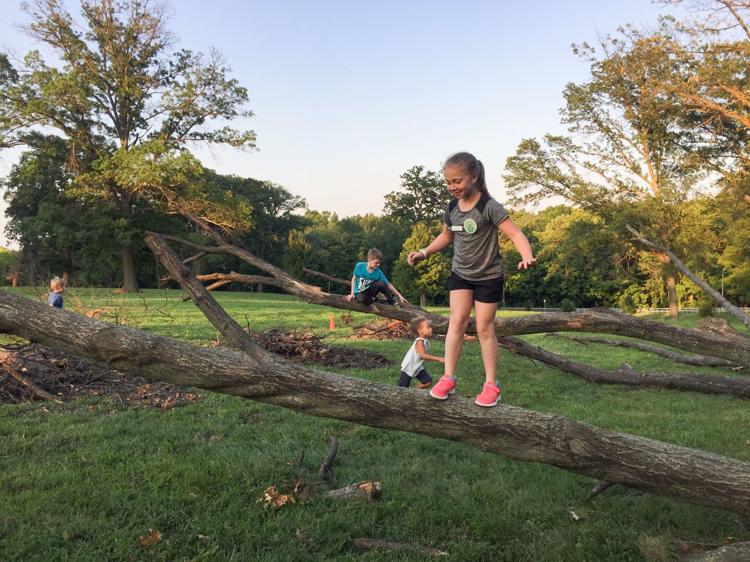 Nature Playscape in Forest Park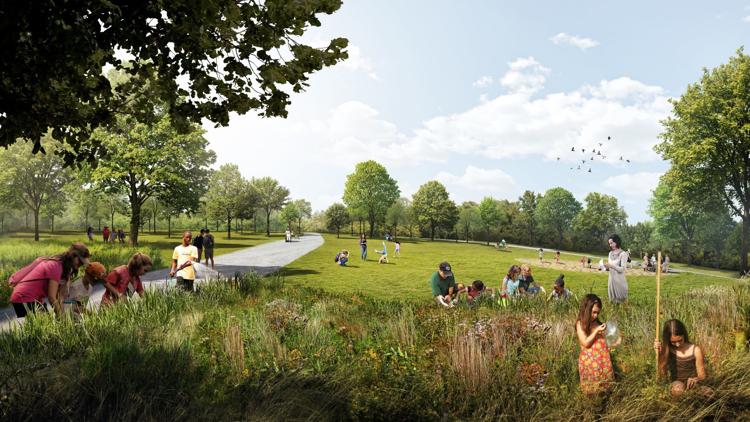 Nature Playscape in Forest Park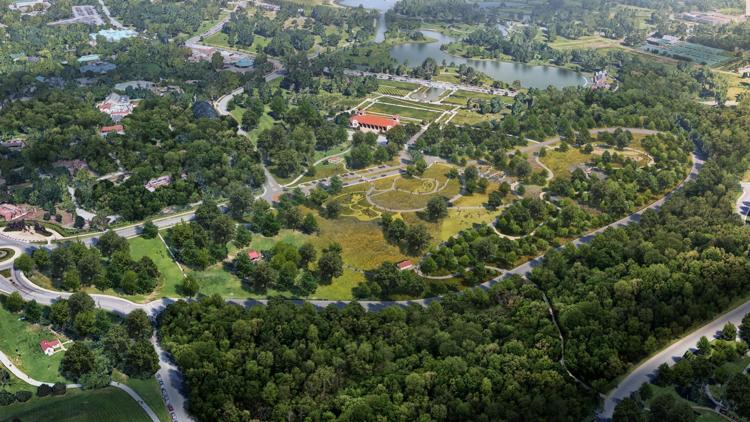 Nature Playscape in Forest Park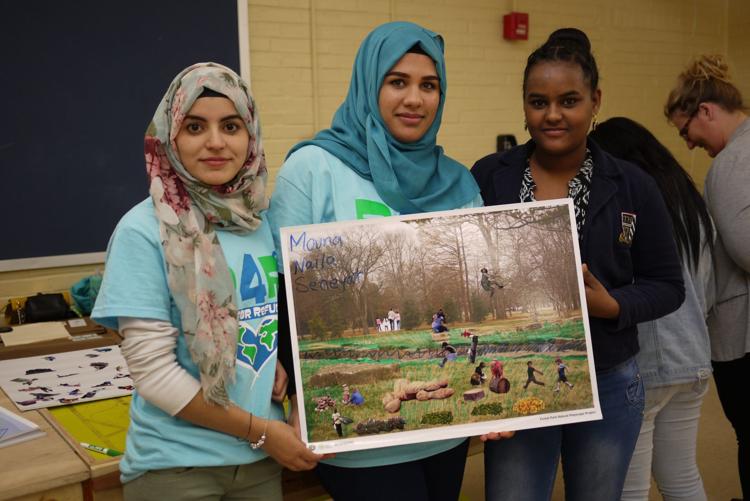 Nature Playscape in Forest Park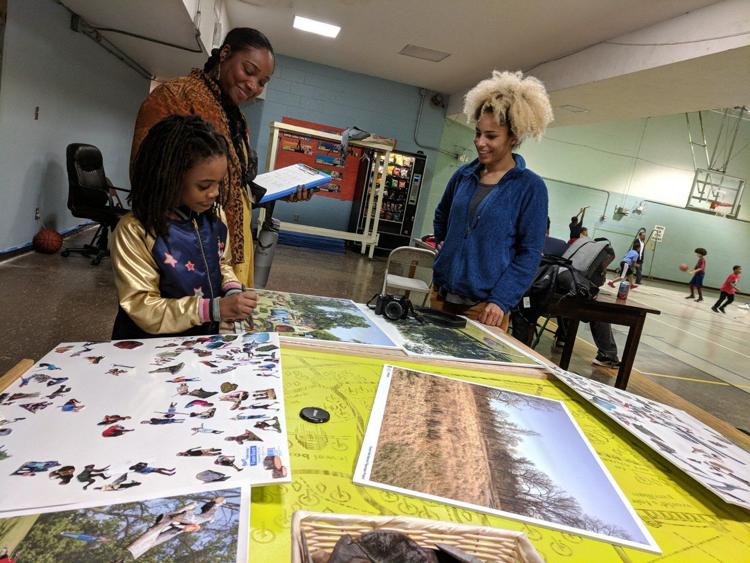 Nature Playscape in Forest Park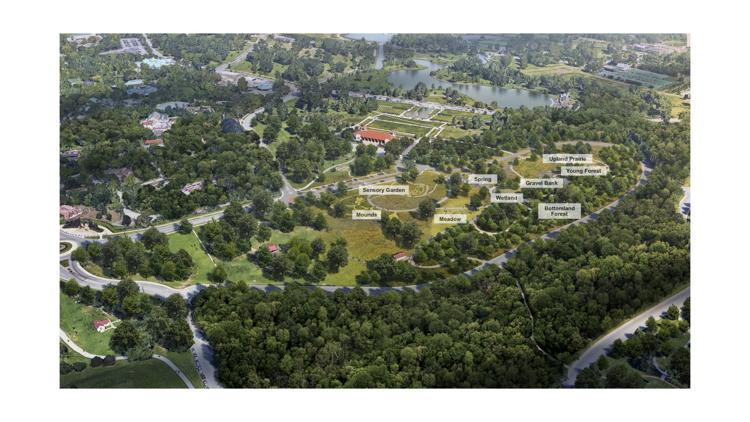 Nature Playscape in Forest Park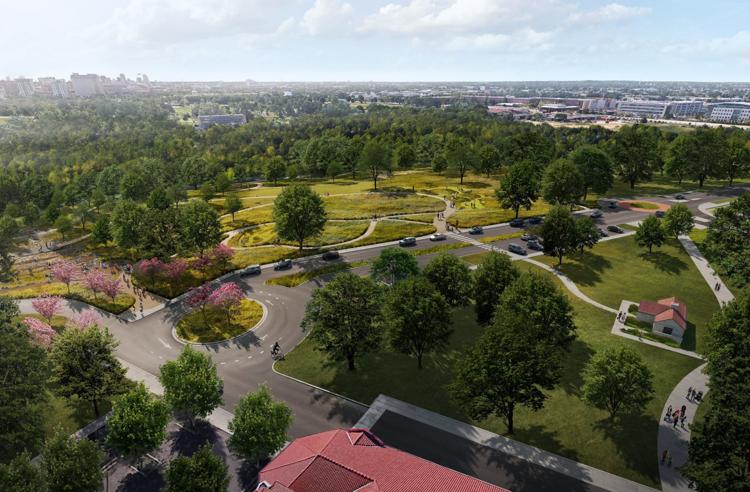 Nature Playscape in Forest Park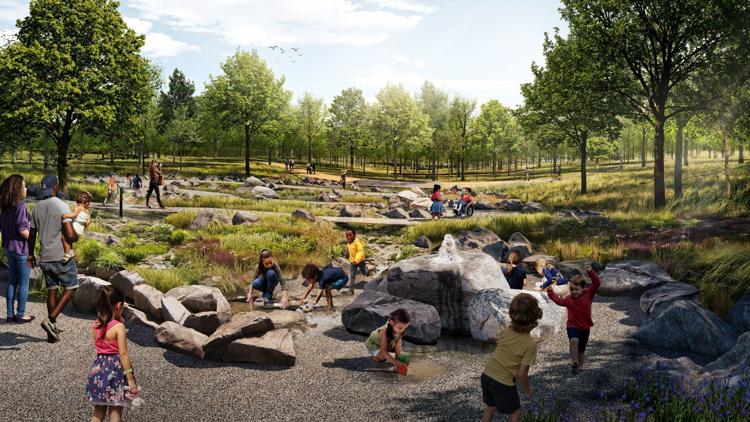 [ad_2]
Source link