rss
Pakistan opens airspace for civilian flights
[ad_1]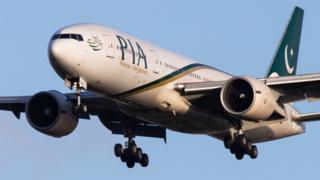 Pakistan Civil Aviation Authority (CAA) has announced to reopen closed air space after the Balakot attack.
On Tuesday morning, the official said on its official website that it would open immediately.
On February 16, after the Pulwama attack, India had an air strike on Balakot in Pakistan on February 28 in response to its retaliation, after which the air space was closed.
Pakistan's decision will bring relief to Air India, the government aircraft carrier stranded in trouble.
Due to the closure of the Pakistan Air space, Air India had to use another route for international flight, which had to bear a loss of crores rupees.
Civil Aviation Authority of Pakistan issued a NOTA to approximately 12.41 of Indian Standard Time, stating that "With immediate effect, Pakistan's airspace has been opened for all types of civilian flight."
How much loss
After the closure of the Pakistan Airspace, the Indian airlines were losing crores of rupees every day, especially Air India.
On July 3, Rajya Sabha, Civil Aviation Minister Hardeep Singh Puri presented a figure in which Air India suffered a loss of Rs 491 crore till July 2.
Private airlines company SpiceJet has lost Rs 30.73 crore, IndiGo got 25.1 crore and Go Air lost 2.1 crore rupees.
After the airspace was shut down, Air India had to adopt a long route for Europe and American cities and many international flights had to be canceled.
Indigo had stopped direct flight service from Delhi to Istanbul. To get here, the plane had to stay in Qatar's Doha.
(For BBC Android's Android app you Click here can do. You us Facebook, Twitter, Instagram And Youtube But also can follow.)
[ad_2]
Source link