rss
Jammu Kashmir: Are the leaders being detained?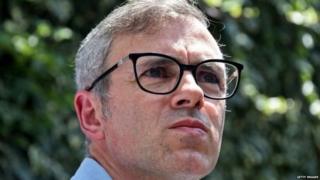 Among the speculations about the elimination of Article 35A and Article 370 and the fears arising from it, leaders of mainstream political parties in Jammu and Kashmir expressed their commitment to save the special status received by the State by meeting on Sunday evening.
According to the news agencies, after the all-party meeting of the Kashmiri parties, the National Conference leader and former Jammu and Kashmir Chief Minister, Farooq Abdullah, read out the proposal passed in the meeting, "All consensus has been decided that all the parties, the autonomy of Jammu and Kashmir and Ladakh And will be united to save special status. "
It has been stated in the proposal that Article 35A, Article 370 and any other unconstitutional action would be considered as an aggressive attitude towards the people of Jammu and Kashmir and Ladakh.
In this all-party meeting, PDP President Mehbooba Mufti, People's Congress President Sajjad Lone, former Chief Minister Omar Abdullah and other leaders were present.
This meeting took place at a time when the administration alerted Amarnath Yatra and tourists in the wake of the alert of the attack in the valley due to the threat of extremist attacks, and the locals are stocking essential items among the rumors.
In the meantime, mobile internet services have been closed in the entire Kashmir Valley including Srinagar.
'Threat of surveillance'
National Conference leader Omar Abdullah has tweeted a tweet that he could be detained at home.
Omar Abdullah has written in his tweet that "the process of monitoring him and other leaders has been started and there is no way to know the truth."
In response to Omar Abdullah's tweet, Congress leader and former union minister Shashi Tharoor has supported him by making a tweet.
Shashi Tharoor has written, "Omar Abdullah, you are not alone. Every democratic Indian will stand with mainstream leaders in Kashmir. Parliament is running the session and our voices can not be silenced. "
PDP leader Mehbooba Mufti also said in a tweet that she would remain united for Kashmir.
Mehbooba Mufti has said in her tweet that "Things are difficult, but no one will be able to break our commitment.
Organization of Islamic Countries (OIC) has also expressed concern over the current climate of the Kashmir Valley.
The OIC has said in his tweet, "The news of the bad situation in the Indian occupied Kashmir, the deployment of additional security forces and the use of restricted cluster bombs has made them anxious."
According to the news agency ANI, the Jammu and Kashmir government has issued Section 144 for the entire order from the midnight of August 5 in the whole of Srinagar to the next order.
There will be no movement of people under this order and all educational institutions will also be closed.
read this also
Tension in Kashmir: Imran Khan said, 'New crisis' can be born
Kashmir: People are storing stuff in need among the people
Pakistan to take dead bodies of its soldiers: India
(For BBC Android's Android app you Click here can do. You us Facebook, Twitter, Instagram And YoutubeBut also can follow.)