rss
Turkish President Ardoan stated, Kurdish will 'crush heads' of fighters
[ad_1]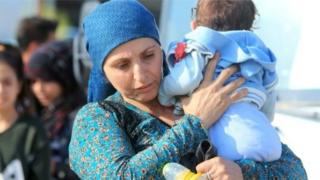 Turkish President Rechep Tayyip Ardoआनan has said that if the Kurdish fighters do not withdraw from the proposed 'safe zone' on the northern Syrian border, they will 'crush their heads'.
Turkey on Thursday agreed to postpone its military campaign against the Kurds in the region, but the moratorium is only for five days.
However, on Saturday, both sides accused the ceasefire violation.
Turkey considers Kurdish forces as terrorists and wants to create a 'safe zone' even inside the Syrian border.
Despite this temporary ceasefire, sporadic violence continued in the border town of Ras al-Ain.
What did ardoan say
In a TV program on Saturday in the central Turkish province of Qayseri, President Ardoआनan said that despite the agreement on the ceasefire, if the Kurdish fighters do not retreat by Tuesday evening, "we will start from where we left the campaign and we will head the terrorists." Will continue to crush.
The Turkish leader is scheduled to meet Russian President Vladimir Putin next week. On Saturday, he said that Turkey will 'implement its plan' if no solution is found out of this conversation.
Earlier, the Turkish Defense Minister alleged that Kurdish forces have carried out 14 'inflammatory' attacks in the past 36 hours and that most of them have taken place in Ras al-Ain but are bound by the Turkish security pact.
US declaration, Turkey stops military operation against Kurdish forces
America took these 'dreaded fighters' of IS before Turkey's attack
Allegations of ceasefire violation
However, the Kurdish-led Syrian Democratic Forces (SDF) has accused Turkey of violating the ceasefire.
He also accused the Turkish forces of not providing a safe way for the citizens to escape from their occupied city.
On Saturday, the SDF asked Vice President of the United States Mike Pence to pressurize Turkey to give people a safe exit. This temporary ceasefire came into force only after Pence's mediation.
Why Turkey is with Pakistan on Kashmir
Strange letter from Trump that Ardoan threw in the trash
In its statement, the SDF said, "Despite continued contact with the American side and the promise of a solution to this problem, no concrete progress has been seen in this regard."
The UK-based organization Syrian Observatory for Human Rights has alleged that humanitarian aid is being prevented from reaching Ras al-Aain.
The supervisory group said on Friday that the figure of ordinary people who died in the Turkish campaign has reached 86.
Due to the campaign started 10 days ago, one and a half to three lakh people have left their homes and fled.
(BBC Hindi's Android App for you Click here can do. You us Facebook, Twitter, Instagram And Youtube Can also follow on.)
[ad_2]
Source link