rss
Hurricanes assist brighten the day of younger sufferers in hospital
[ad_1]
By Lethbridge Herald on December 12, 2019.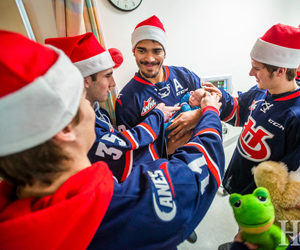 Defenceman Koletrane Wilson holds three-week-old Finley Lomanski, surrounded by fellow Lethbridge Hurricanes teammates, as they delivered teddy bears Thursday on the pediatrics unit at Chinook Regional Hospital. Herald photo by Ian Martens @IMartensHerald
Tim Kalinowski
Lethbridge Herald
tkalinowski@lethbridgeherald.com
Several members of the Lethbridge Hurricanes brought some Christmas cheer, an arm full of Teddy bears, and even a few hugs on Thursday for some kids stuck in the pediatric ward at Chinook Regional Hospital during the holiday season.
"It's a pretty good feeling," said Hurricanes right winger D-Jay Jerome. "It's pretty cool to come visit young kids that maybe don't have much. It makes you feel pretty good for not doing a ton."
Jerome said he and his teammates were happy to come out and spread some warmth and holiday cheer, and he hoped it made the day of some the kids in the ward who would rather be home with their families than where they were through no choice of their own.
"As a team, we're kind of the face of the community, and all these kids look up to us," he said. "It's a big thing in their lives just coming out to watch us, and when they see us they kind of think we're stars, even though we may not be. It's a cool feeling for us, and just a chance for them to see something new."
All of the Hurricanes who came out on Thursday were definitely stars in the eyes of her 18-month-old son Emmett, said Misty Moore, who had been in the hospital dealing with her boy's health issues for the past few days.
"He's thrilled," she said, holding the bright-eyed, red-cheeked child in her arms. "He loves Teddies, and he loves hockey. I think this visit is so important for kids and families that may not have extended help. I think it gives a little hope, and uplifts the spirits, and gets the kids excited."
While his two-year-old son, Seth, would be going home on Thursday, Jordan L'Hirondelle said he felt for all those families whose children would be staying on the pediatric ward over the holidays. He said the Hurricanes visit helped make a difficult time easier for many families, including his own.
"For him (Seth) being in the hospital is heartbreaking, because he just wants to go home," L'Hirondelle said. "He knows he's not home here. The Hurricanes visit really made his day a lot brighter."
Follow @TimKalHerald on Twitter
Leave a Reply
You must be logged in to post a comment.
[ad_2]
Source link