rss
12 months in Evaluate: Prime 15 tales of 2019
[ad_1]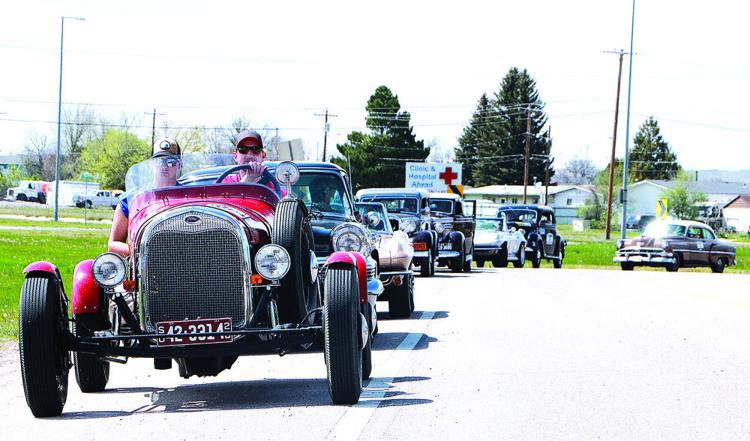 The year 2019 was a year full of exciting activities and changes in Gering. As we turn the page into 2020, we're taking a look back at our archives at the top 15 stories of the year.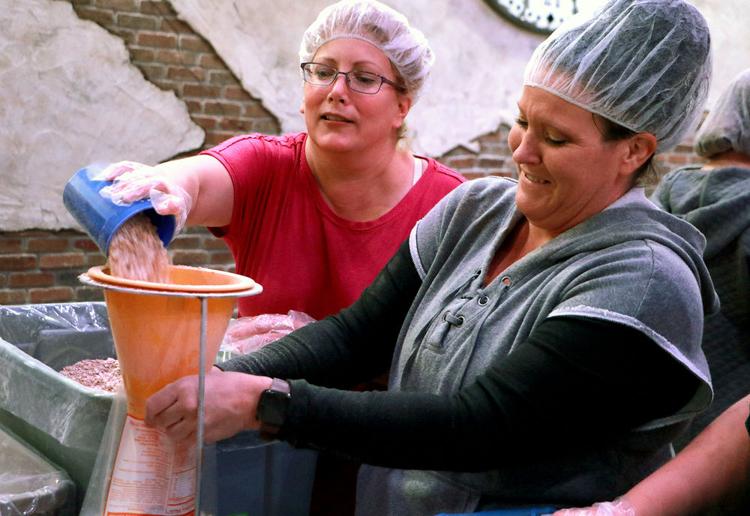 15. Fighting food insecurity: United Way Day of Caring volunteers pack 75,000 meals Tuesday
By Lauren Brant
Gering Courier
The seventh annual United Way Day of Caring was another success as local businesses, students and community members packaged 75,000 meals to help address food insecurity across the valley Tuesday, Oct. 1.
United Way of Western Nebraska Executive Director Steph Black said 240 volunteers came out to help package macaroni and cheese as well as apple cinnamon oatmeal before it was loaded into trucks and transported to places in Morrill, Mitchell, Scottsbluff, Gering and Bayard. The meals are fortified with protein and soy.
14. Samsung visits GHS, donates $10,000 to program
By Lauren Brant
Gering Courier
Gering High School will be highlighted by Samsung as part of the school's success in the Samsung Solve For Tomorrow contest following the Samsung team's visit to GHS Monday, Oct. 7.
The Bulldogs have won the most in the contest's 10 years as a three-time, consecutive state winner and a national winner in 2017. During that time, over 20,000 entries, from across the country, have come in for the contest.
In celebration of the 10th year, Samsung executive vice president David Steel announced Samsung's Solve For Tomorrow contest will increase the prizes from $2 million to $3 million.
At the end of the assembly, Steel announced Samsung will donate $10,000 to GHS, so the district and staff can continue to grow the program.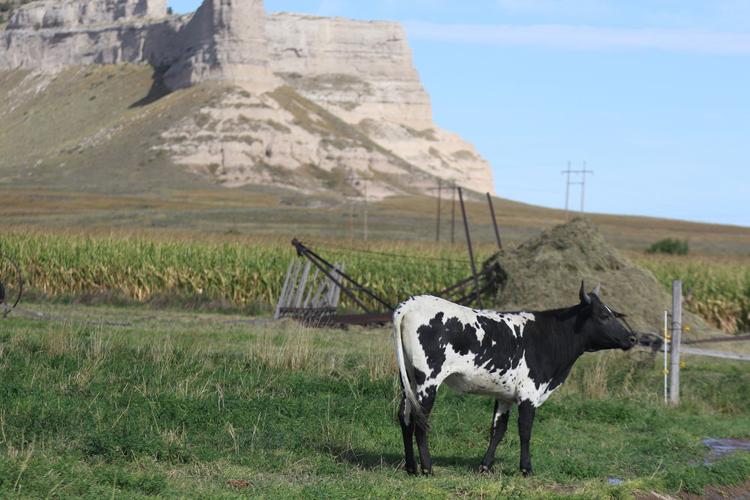 13. Continuing Minge's Legacy: Steer arrives at Legacy of the Plains
By Kamie Stephen
Gering Courier
The trailer door swung open and the steer inside began to assess the situation. He turned his head, angling it through the doorway before putting his feet on the ground outside the trailer. Navigating tight spaces can be challenging when a pair of horns with a span of more than eight feet are involved.
The steer was delivered to the Legacy of the Plains museum Friday, Oct. 4 making the final installment of a donation in honor of the late Harold Minge.
12. Family of five displaced in Gering fire; space heater cited as cause
By Maunette Loeks
Gering Courier
Gering and Scottsbluff firefighters battled a fire at a Gering residence early Tuesday morning.
Fire crews were called to a residence at 1950 Fourth Street at about 3:30 a.m. Gering firefighters responded, with the residents of the home reporting that the fire had started in the closet of an upstairs' bedroom, according to scanner traffic.
11. Students donate 4,260 pounds of food for holidays
By Lauren Brant
Gering Courier
Gering Public Schools students, teachers and families did their parts to give back to the community this holiday season by collecting canned goods for First State Bank's annual canned food collection for the Gift of Love program. Donations from Gering Junior High School, Northfield Elementary and Lincoln Elementary totaled 4,260 pounds of goods.
Students spent time during their lunch and outside of class to package the goods into boxes as First State Bank employees traveled around the area Friday, Dec. 6 for pick up.
10. Amy Seiler takes over as parks director
By Jerry Purvis
Gering Courier
The formal job title is all-inclusive – director of parks, recreation and leisure services. For Amy Seiler, it's the kind of work that's always interested her.
"Ever since I was in junior high, I've always loved landscaping and nature," Seiler said. "I knew I wanted to be in this field of work, being outdoors and working with plants and trees."
Seiler is now in her fourth week as parks director for Gering, succeeding long-time director Ron Ernst. But her tree-lined path back to the area was a long one.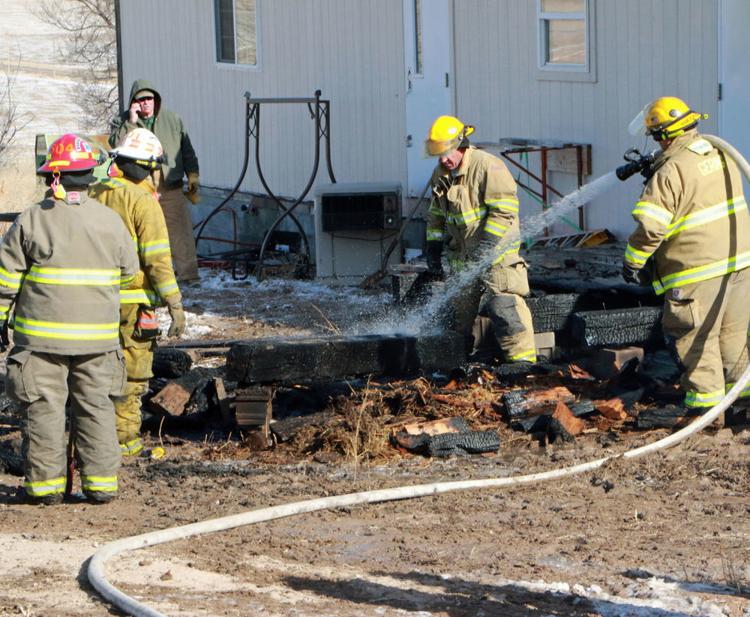 9. 'God wanted us to stay here,' woman says after firefighters extinguish blaze Tuesday
By Lauren Brant
Gering Courier
Peggy Coulter sat in her living room while having a phone conversation with a friend when she smelled smoke Tuesday morning. She got up to turn down the wood-burning stove when she noticed the winter wood supply outside was on fire.
"My first thought was to call 911, then my husband, grab a garden hose and pray," Coulter said.
As she began spraying water on the fire, neighbors came over and began throwing snow.
8. Gering student Jada Schlothauer wins Nebraska Junior Duck Stamp Contest
By Lauren Brant
Gering Courier
Artwork of native North American ducks were placed around tables in the conference room at Education Service Unit #13 in Scottsbluff.
Five judges placed Federal Junior Duck Stamp poker chips on their selections in the kindergarten through third grade, fourth through sixth, seventh through ninth, and 10-12 grade groups.
This year's Best of Show was awarded to Jada Schlothauer, an eighth grader at Gering Junior High. Schlothauer's illustration was of a green winged teal, using acrylic as a medium.
7. Police receives funds for body cameras
By Jerry Purvis
Gering Courier
With some help from the city council, the Gering Police Department will continue providing video evidence of its activities.
At their Monday meeting, city council members approved $27,148 from the keno fund to cover the next year's lease payment for body cameras for the police department's 18 full-time officers.
In June of 2018, the police department upgraded its camera system to provide even better video footage of response calls made by officers.
6. Director resigns as jail operations get back on course
By Jerry Purvis
Gering Courier
Although he's only been on the job for about two weeks, Scotts Bluff County Sheriff Mark Overman said the Scotts Bluff County Detention Center is operating smoothly.
Overman was named interim jail director after county commissioners placed director Joe Gaul on administrative leave pending an internal investigation into jail operations. The county board had earlier hired the legal firm of Woods and Aiken of Lincoln to assist with the human resources investigation.
At its regular Monday meeting, the county board accepted Gaul's letter of resignation dated April 30.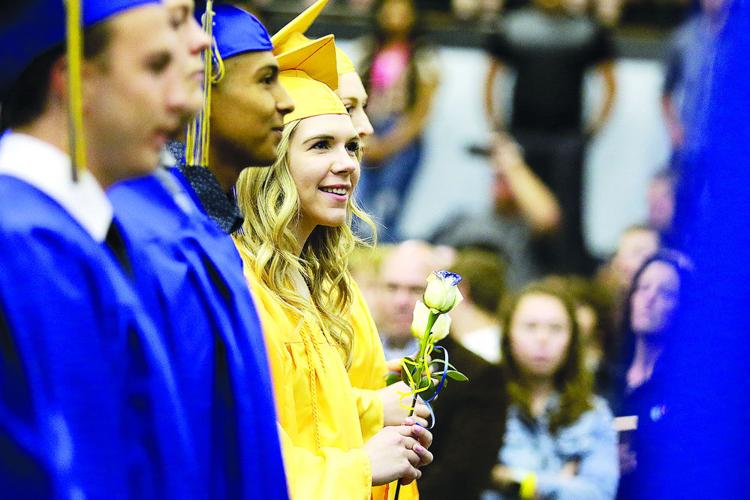 5. Pomp & Circumstance: 142 Bulldogs celebrate receiving their diplomas
By Lauren Brant
Gering Courier
As families made their way into the Cougar Palace on the Western Nebraska Community College campus, 142 Gering High School seniors lined up in The Pit dressed in their caps and gowns, waiting to walk out for their commencement ceremony Sunday.
With the help of teachers, the graduates straightened their caps and headed into Cougar Palace with smiles on their faces.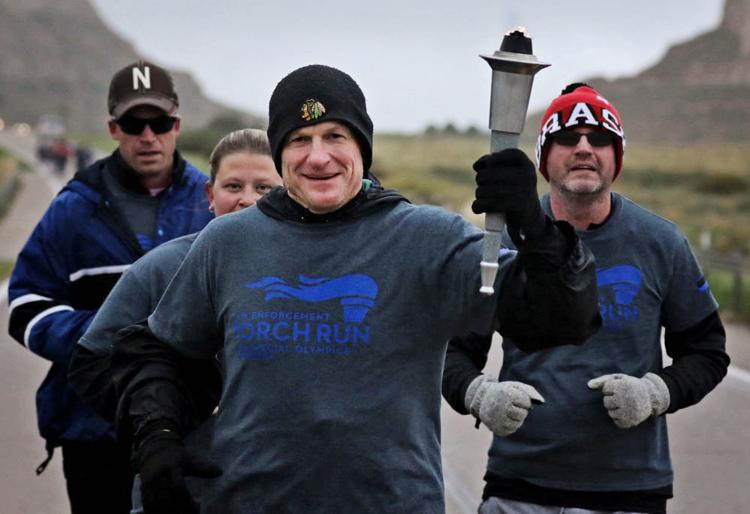 4. Runners brave weather to give Special Olympians a send-off
By Brad Staman
Gering Courier
A low cloud hung over Scotts Bluff National Monument Monday afternoon, and the temperature was around 40 degrees as about 30 runners ran out onto the highway, turned east and headed into Gering.
The runners weren't running for personal glory — instead, they ran in the Law Enforcement Torch Run to draw awareness to Special Olympics. It was one of many similar runs held across the state.
"Law enforcement is committed to helping Special Olympics," Scotts Bluff County Sheriff Mark Overman said. "I've been in it (the run) since 1985."
Originally, the run was a relay across the state of Nebraska as a fundraiser. Over the years, the annual Polar Plunge became law enforcement's biggest fundraiser for Special Olympics and the run became a community event to raise awareness.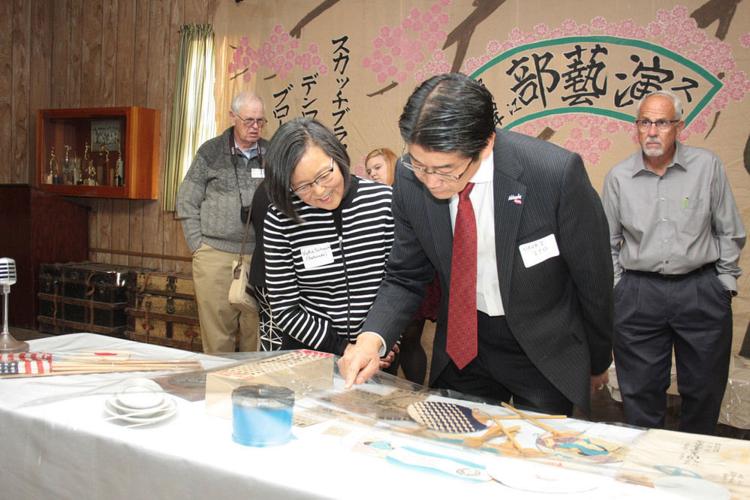 3. Japanese Hall scheduled for move to Gering
By Jerry Purvis
Gering Courier
Since 1928, a small white building on 17th Street in Scottsbluff has held the history, culture and stories of generations of Japanese-Americans. By this fall, the Japanese Hall is expected to be in a new home at Gering's Legacy of the Plains Museum.
At its Monday meeting, the Scotts Bluff County Board of Commissioners voted to approve a $50,000 tourism capital improvement grant to move the building.
2. Gering teen crowned 2019 Miss Scotts Bluff County
Queens and teen misses were crowned during Saturday's Miss Scotts Bluff County Fair pageant.
Crowned were: Miss Scotts Bluff County, MaKinzie Gregory; Teen Miss Scotts Bluff County Jamie Rose Chen; Miss Old West Balloon Fest Brianna Little; and Teen Miss Old West Balloon Fest Jalyn Wagner.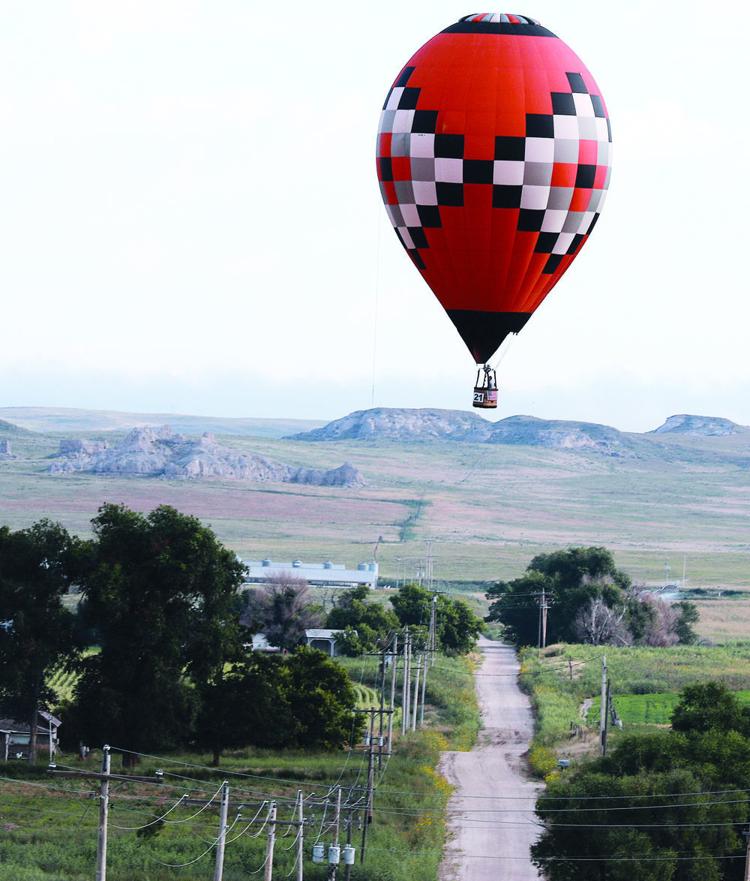 1. Showcasing the Valley: Gering headquarters of U.S. National Hot Air Balloon Championship
By Lauren Brant
Gering Courier
Forty-four hot air balloons have soared over the valley since Monday as the U.S. National Hot Air Balloon competition began. While the targets are located across Scotts Bluff County, pilots and their teams meet every morning at the Gering Civic Center for a pilot briefing.
While the weather plays a major role in determining whether pilots can fly safely, the Monday and Tuesday morning tasks were canceled giving teams an opportunity to explore the valley.
[ad_2]
Source link