rss
Sarvpriya Sangwan of BBC Hindi gets Ramnath Goenka Award
[ad_1]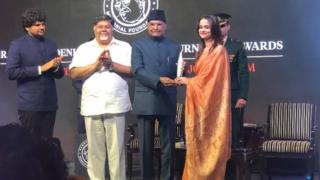 BBC Hindi correspondent Sarvapriya Sangwan was honored with the prestigious Ramnath Goenka Award. Sangwan has been given this award for his story based on people facing difficulties due to India's nuclear program.
President Ram Nath Kovind gave this award to Sarvapriya Sangwan at an event held in Delhi on Monday.
This story of Sarvapriya Sangwan tells the story of people affected by uranium in Jaduguda in Jharkhand and raises the question whether this area is paying the price of India's nuclear dreams?
Ramnath Goenka Award for Sarvapriya Sangwan
Sarvapriya Sangwan has been given this award for Broadcast Journalism in the Environment and Science category.
The report for which Sarvpriya Sangwan received the award
Uranium Corporation of India Limited (UCIL) company in Jharkhand has been mining uranium since 1967.
Uranium has been coming from the country for nuclear reactors for 50 years.
There are seven uranium mines in East Singhbhum district of Jharkhand – Jaduguda, Bhatin, Narwapahar, Bagjata, Banduhuranga, Turamdih and Mohuldih. But by the end of the nineties, hundreds of children started appearing with disabilities here.
During the ceremony, the President said that fake news has come out as a threat. Advocates of these news stories call themselves journalists and taint this fantastic profession.
He said that the basic principles of noise inhibition and responsibility of "breaking news" syndrome have actually diminished.
Kovind said that journalists discharge many responsibilities. He is often seen in investigative, absurd and judge roles.
President Kovind has said that stories highlighting great social and economic disparities are ignored and trivial issues are preferred in their place.
Other journalists who have done remarkable work in the field of journalism were also awarded the Ramnath Goenka Outstanding Journalism Award.
The Ramnath Goenka Outstanding Journalism Award is given to such reporters who worked in dangerous or difficult situations and gave accurate news.
The award for journalism began in 2006 and is awarded to selected journalists who have excelled in the fields of print, electronic and digital media.
The jury included Tom Goldstein, professor and dean of the Jindal School of Journalism Global University, former Chief Election Commissioner SY Qureshi, journalist and senior fellow Pamela Philippos in the Indian Council of Social Science Research, and former Supreme Court judge BN Srikrishna.
(For BBC Hindi's Android app you Click here can do. You us Facebook, Twitter, Instagram And YoutubeCan also follow on.)
[ad_2]
Source link